There's something special about the outdoorsy feel of fall. Maybe it's the changing leaves or the cooler weather, but everyone seems to want to be outside when the season begins. Fall is an ideal time to bring elements of the outdoors inside. Taking inspiration from earth tones and natural textures can make event attendees feel like they're tied in with nature.
My friends at CORT Events are here to help you look at how you can find inspiration for an outdoor-inspired design this season.
Fall Foliage Color Combinations
Taking inspiration from the colors of fall leaves is an easy way to bring the outdoors inside and replicate a fall landscape at an indoor event. Browns, oranges, deeper yellows, and darker greens all suggest the leaves of fall.
Using the Valencia Sofa from CORT Events as a base centers your design with a natural earth tone. Add other soft seating pieces to the mix, like the Bowery Chair in ochre and the Valencia Chair in spice orange. These chairs not only add more soft seating to the space, but they also complement the earthiness of the sofa with the tones of fall leaves.
Bring in an "Earthy" Feel with Texture
Bringing the outdoors into a fall event is about more than just color. Texture is a key to achieving a natural, earthy feel as well. Varying the textures within a space adds dimension and make designs more interesting.
For example, the soft, sophisticated velvet of the Valencia Sofa contrasts well with the distressed leather texture of the Atherton Chair. The Mesa Cocktail Table, with its rustic yet sophisticated barnwood top, adds another dimension of outdoor texture to an already inviting space.
These textures are pleasing to the eye and the touch, and they combine to create a comfortable, cozy space.
Create Warmth with Patterns
Let's go back to our Valencia Sofa example. It's earthy in color and has an intriguing velvet texture but adding more patterns to the space breaks up the solid colors and adds interest to the eyes and warmth to the senses.
The Plumes Pillow features a light feather pattern in neutral fall colors for a different sense of bringing the outdoors inside. In contrast, the Albuquerque Pillow in ochre brings a welcoming and inviting Southwest vibe. These pillows with bold, memorable patterns also pair well with the Lena Chair in moss green or the Bowery Chair in ochre.
Make Your Space Feel More like Fall with CORT Events
Combining different colors, textures, and patterns that usher the outdoors inside can bring a "fall" look and feel to your event this season. There's one source that can provide the furniture and accent items to meet your needs all in one place: CORT Events. From ideas and inspiration to cutting-edge space planning tools to setup and delivery, CORT Events has your back every step of the way.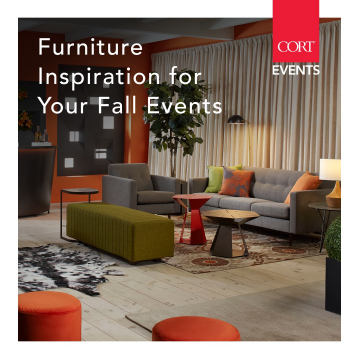 Inspiration from the Shades of Summer to Fall
The change of season brings welcome variety to the world, and the transformation from summer to fall is no exception. Much in the same way that homeowners can reflect the change of season with fall decor, your events can reflect the excitement and freshness of a new season.
My friends at CORT Events have pulled together a few examples of colors from the Pantone collections that transition from summer to fall, with some practical examples of how you can bring them into your next event.
Transition from Daffodil to Samoan Sun
Yellow is a color that universally suggests positivity and warmth, regardless of the season. Spaces can also be brightened with this shade, along with adding texture, particularly if the room or building has no windows.
The cheerful yellow tone of Samoan Sun is ideal for your fall event because it pairs well with other trending colors for the season, like the subtle green of Martini Olive or the orange-leaning brown of Caramel Café.
In their line up, CORT Events offers the Bowery Chair in ochre pairs which is complemented by the Del Mar Tonal Rug in Earth Brown or the Sedona Side Table with the barnwood top.
Say "Good-bye" to Poinciana and "Hello" Lava Falls
Its been shown that shades of red can evoke feelings of security and protection as well as increase enthusiasm. For events this can be exciting to play with throughout your design because it conjures up the exact feelings you want your attendees to experience.
The Chandler Sofa in cranberry from CORT Events is the ideal large piece in this shade. Its rich red resembles Pantone's Lava Falls, and it pairs expertly with the ochre Bowery Chair — CORT even puts those pieces together in the Chandler Bowery Package.
Leave Behind Skydiver and Embrace Midnight
Cool colors like blue and green make a pleasant balance for the warm colors of fall because they provide a welcome contrast.
Pantone chose the rich indigo of Skydiver as its summer shade of blue, but the late-night sky of Midnight is the featured blue for fall. For inspiration, look towards CORT Events Montreal Visions Package to tie deep blues into your fall event. This collection incorporates saffron, spiced orange, brown, and blue hues that tie in with the trends for fall 2022.
Choosing the right fall colors for your event space with CORT Events
The existing elements within your event space go a long way in helping determine the right fall focal color to use. Having the right furniture partner will make a huge difference with this which why CORT Events has you covered. From large pieces to smaller accents and decor, CORT can provide you with everything you need to bring fall color and ultimate practicality to your event.
When you're ready to make your fall event a success, reach out to CORT Events. You'll be glad you did.