Hi Sassies, the winter cold is blowing out and warmer days are on their way! With this temp shift, the spring wedding season is once again on the horizon. But before all of the snow has melted and we wave goodbye to the winter, my friends at CORT Events have a few ideas that will carry over to the spring.
The Wedding Venue That Works in Every Season
Although barn weddings are particularly beautiful in the winter, this is an ideal venue for every season. Many barn venues are blank canvases that will allow you to create a beautiful wedding memory for your clients and their guests.
More and more event spaces are converted barns, and the rustic charm can be both elegant and fun. But don't forget, lighting and décor are key to a barn wedding — especially in months before daylight savings has ended — and depending on the locale of the wedding, heating will be paramount too.
Snowy Wedding Decor That Never Melts
Who doesn't see beauty when thinking of falling snow in the wintertime? Snowflakes, flurries, they're the best. But just because the season is warming up doesn't mean that this effect can't be duplicated for your bride and groom at any time of year. Incorporating twinkling lights and candles, and employing evergreen into the décor throughout the venue can create a snowy and cozy effect during the event.
Timeless Winter Colors That Always Work
Winter weddings typically mean that most traditional wedding colors are out the window. Pastels and bright colors that are perfect in spring and summer won't necessarily fly in wintertime, there are a few color ideas from the season that holds their elegance throughout the year. Think rich hues and bold contrasts with whites and neutrals. A blue winter wedding may sound like a cliché, but it can be a classic, timeless look, or think of it as an opportunity to decorate like a royal blue fairytale style wedding.
One of the best things while planning a wedding at any time of year is that you don't have to do it alone. When you partner with CORT Events, creative inspiration, and ideas like the ones you just read abound. It doesn't matter if you're client is looking for something traditional or a wedding that's more modern and innovative, they can help you plan and prepare.
With CORT Events, you don't have to sweat the delivery, setup, and assembly, because it's all taken care of quickly and efficiently. From the beginning stages of your planning to the aftermath, they're here for you.
Steve Kemble – Winter Wedding Post Copy
Let it snow, Sassies! ❄️
Even when the snow stops falling, these winter wedding ideas stay in style, so you don't have to rush down the aisle! ?‍♀️?
Head to my blog and find all the wedding inspo you need: www.stevekemble.com.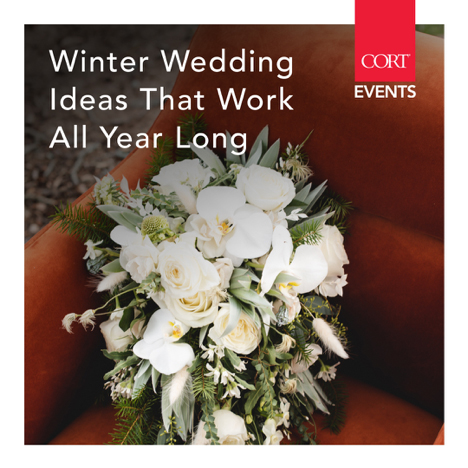 ---