Hi Everyone! Let's talk about a tough subject – STRESS. Everyone is feeling some level of stress including your clients and event attendees. More and more, individuals are becoming aware of their mental health but, believe it or not, you can help them by making comfort a priority at your next event.
Here's a guide from my friends at CORT Events on how to do just that.
How to add Comfort to Your Events
When you're planning an event, you want the most bang for your buck. Your event is an experience, and adding elements of comfort throughout your event space can tie the theme together as well as make attendees feel at home no matter what room they're in.
Soothing Colors, Textures, and Patterns
It may sound simple but incorporating colors, textures, and patterns in an event space is a quick way to enhance the level of comfort.
Cool colors like blue, green, and purple are soothing and comfortable, while yellow brings feelings of comfort and energy. Whites and pastels can also soothe and comfort attendees.
Certain textures evoke feelings of comfort and positive sensations. Soft and smooth textures evoke comfort, so bring those into your event design.
Avoid rough and hard textures that bring less desirable sensations.
Discernible patterns in natural and manmade elements also suggest comfort.
An easy win with these is to consider using drapery, accessories, and other decor elements to bring pleasing colors, textures, and patterns to your next event.
Comfortable Seating
With CORT Events, they believe that seating is so much more than a chair or sofa, they're personal sanctuaries for your guests. Soft seating and modular sofas can be both stylish and cozy in any event space, and you can find chairs that match any type of event — even in posh velvet.
Additionally, comfy ottomans are another option for extra seating or for guests to prop their feet on.
Temperature and Lighting
One of the trickiest areas of comfort to navigate is temperature. Everyone has an opinion — some people are always hot, while others are always cold. What do you do? One solution could be to divide your larger event spaces into living-room-sized areas that give attendees more choices and give you more options for temperature control.
With lighting, avoid those awful fluorescent tube lights that every event space seems to have and opt for customizable LED lighting that gives you control over brightness and color. Area lighting gives you options for comfort and coziness in smaller spaces as well.
Event Furniture Rental: Design and Plan with CORT Events
You might think that you need to find multiple sources to help you achieve a comfortable and inviting event space, but you only need one: CORT Events. Not only will you find plenty of ideas that help you achieve comfort and wellness within your event space, but you'll also find tons of other creative and inspiring ideas.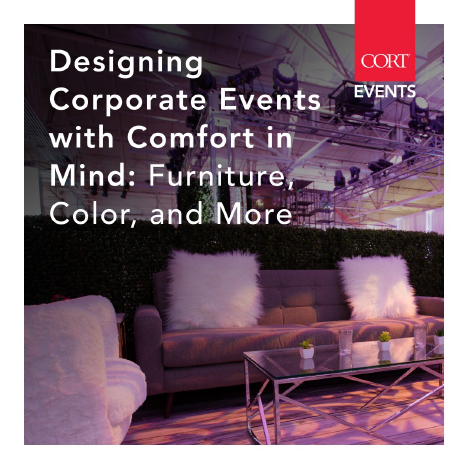 Ideas to Furnish and Design Your Events Around Every Season
One of the exciting things about the changing seasons is that seasonal decor gives people the opportunity to express themselves in different ways throughout the year.
As an event planner, it's easy to take advantage of the seasons and create unique styles for each event. Whether you prefer traditional or modern event furniture, you can easily style an event that fits the season with colors, lighting, decor, and furniture from CORT Events.
Here are a few ways to make the most out of seasonal decorating for events throughout the year and how modern furniture rental can help you achieve your event goals.
Spring
Spring is a time of renewal for nature and for people in general, and color and decor trends for the season reflect that idea. Consider choosing barstools for your event that reflect the vibrancy of spring.
CORT Events offers the Blade collection of barstools and the accompanying line of chairs in an array of exciting spring colors. For a bit of "shine" to your spring event, add in chrome end tables like the Silverado end table or the Alondra end table.
Summer
Nearly everybody equates summer with excitement and freedom, and the hues and decor of the season reflect that carefree sense. Sectional summer furniture and ottoman rentals for your events — like the Beverly collection — can help promote conversation and comfort at your event, no matter the purpose. Consider elegant comfort like the Malibu chair as well as carefree casual pieces like the Christopher chair from CORT Events. Summer is perfect for outdoor events, so when you plan for an event under the sun or stars, consider outdoor furniture rental as well.
Fall
Fall is a fun time of year to design an event because the color palate changes drastically in nature and in clothing and decor. Rich neutral tones can mimic the changing leaves and nature define fall. One of the fall furniture ideas that can work for your next autumn event includes the Valencia chair, which combines a classic burnt-orange color with a design that's both retro and fresh. Pair the chair with pillows that bring in more vibrant fall colors — in fact, pillow rental is a terrific way to bring in pops of color in any season.
Winter
Winter is a truly unique time because colors and winter decor both match and contrast the starkness of the outdoor landscape. Using classic, timeless neutral shades with pops of exciting, brighter tones in your furniture is a great way to create a memorable event.
Renting ottomans for events are a terrific option for easily configurable seating. Oval ottomans from the Endless Collection give you modular seating that can throw in the dramatically contrasting shades of winter colors.
Partner with CORT Events Rentals in Every Season
No matter what time of year you're looking to plan an event, CORT Events is your perfect partner. CORT offers you a vast array of styles, colors, and collections for events of any size, any style, and any season. You can count on them for creative inspiration too.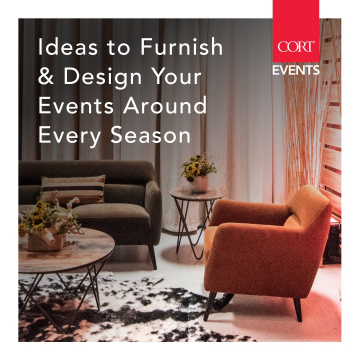 Bringing Pearlcore into Your Event Design
Hey there, Sassies! As you're planning events in 2022, chances are you're looking to harness some of the popular trends that have debuted this year. One of the hottest trends for 2022 that's hard to explain on paper — but you would know when you saw it in person — is pearlcore. Here with tips on how to take this trend from the runway to your next event are my friends from CORT Events.
What Exactly Is Pearlcore?
Pearlcore is a hot design trend that, true to its name, relies on iridescent accents and a color scheme based on off white neturals. The look that pearlcore gives you suggests the smooth, shiny iridescence of pearls and brings that timeless, classy look into interior design while still looking modern and can give a peaceful, soothing vibe to an event.
How Do You Achieve a Pearlcore Look?
One of the best ways to introduce pearlcore into a design is to use accents to bring iridescence without it being over the top. Accents like lighting, drapes, and inlaid surfaces are a good start. Incorporate linens, pearl strands, garland, tiling, and mirrors to further support a pearlcore look.
Pearlcore Accents for Events
Accents are an ideal way to introduce pearlcore to your event design. As an alternative to larger pieces that dominate your space, iridescent accents and off-white decor pieces can draw in pearlcore elements in a more subtle way. Consider some of these accent ideas when you're looking for event decor rentals.
Pillows
Use throw pillows to soften the look and feel of furniture and imbue the colors and textures of pearlcore. A Champagne Velvet Pillow and Ombre Pillow offer shimmery texture and subtle colors that pair well with pearlcore designs. For a more elegant style, try the Regal Pillow or the Dia Pillow.
Lighting
Accent lighting can also help you achieve a pearlcore look. Check out the Delano collection of table lamps and floor lamps to see a retro design that ties in well with off-white and neutral tones. LED column lighting can also help you add some iridescence in corners and at the division points between spaces.
Throw rugs
Throw rugs are some of the most versatile accessories you can use in a space. They lend warmth, break up large expanses of bare flooring, and can be used to section off different areas of your event. The Circles rug combines rich, neutral tones with an enticing pattern, while the Visions rug adds impressionist textures and bright gold or rich purple tones. The Lapis rug looks rugged and natural, while the Horizons rug brings vibrant blues to your decor.
Table accents
Accent pieces for tables make it easy to add pearlcore elements to dining tables, display tables, or end tables. Rely on tablecloths in off-white, iridescent, soft pastels, and patterns or lined with pearl edging to spread a pearlcore effect across the whole table.
Drapery
Drapery along the walls, used as room dividers, or strategically placed for lighting or projection can be effective and striking. There are plenty of options for drape rental for your next event.
CORT Events: Your Partner in Event Design
When you're ready to plan your next event, partnering with the right event furniture rental company can make all the difference. Whether you have a vision for your event in mind or you need some creative inspiration and resources for planning, CORT Events is ready to partner with you. Give CORT Events a call or check them out on the web to make your next event a reality.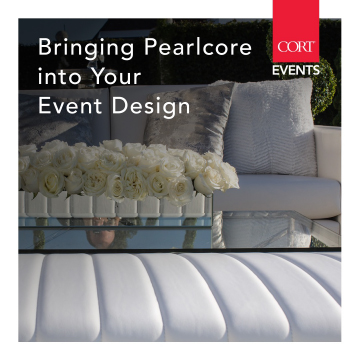 ---