Hi Sassies. As 2021 draws to a close, it's always nice to look back at what made this year unique. With the huge boom of the work from home movement caused by the pandemic, many of us have grown used to having the comfort of home right at our fingertips throughout our workday. So why not do the same at your next event?
One great way to incorporate a relaxing, home-like environment at your next event is with color. Using colors that remind eventgoers of home helps them feel comfortable and as a bonus, those who work from home will recognize the comforts that they're used to.
If you're wondering how, you can add some of the comforts of home into your next event, don't worry. CORT Events has a few tricks for you to keep up your sleeve as you plan for next year.
From Dining Room to Banquet Hall
The relationship between the dining room at home and the banquet hall at an event is a natural one, so pulling inspiration from this year's dining room decor trends work well in either type of venue. One of the top trends in dining rooms in 2021 is the Scandinavian look. Tie in whites and natural wood elements for a crisp, clean style. White chairs and decor with a natural look can help you achieve this simple, modern look.
Designers have also brought in dark, yet bold colors into the dining room in 2021, particularly shades of navy blue and dark green that suggest timelessness and trendiness at the same time.
From Living Room to Networking Event
The living room is a casual, comfortable place where everyone feels at home, and it's a place to entertain, which makes it the perfect parallel to a networking event. Choose from this year's popular living room colors – Ultimate Gray and an accent of Illuminating – to bring that sense of familiarity in. It's easy to work with gray as a dominant color and tie in bright yellow accent furniture for a pop of color.
From Bedroom to Cocktail Hour
When you're at home, there's no better place to relax than the bedroom, so why not use the same concept when you're designing the area of your event where attendees can unwind? Tying the hottest bedroom colors of 2021 – Terracota and Pistachio green – to your lounge furniture rental choices can help you develop a relaxing and enjoyable lounge space at your next event.
Look for cocktail tables and other serving furniture in these color schemes when you're searching for bar furniture rentals.
Where can you find color inspiration and a wide selection of styles that reflect this year's trends? The answer is simple: CORT Events. CORT Events does so much more than offer furniture rental, they create one-of-kind ensembles that leave guests and attendees with memories for years to come.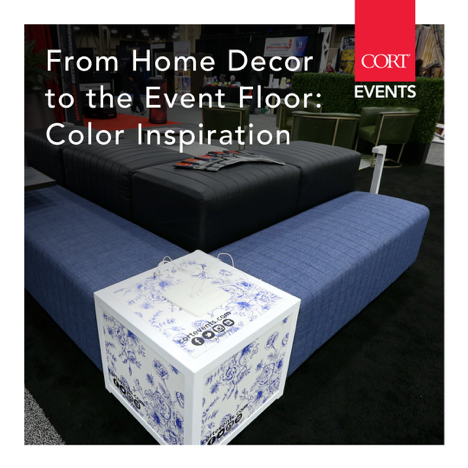 ---