Hi Sassies,
From music to comedy to fashion, since 2020, TikTok has influenced so many things around us – including color trends that are used at your events this season. My friends at CORT Events took some inspiration from the platform and had advice on blending together surprising color combinations that add flair to your events.
Aesthetic Color Combos
One of the guiding principles of TikTok design is aesthetics. As event industry leaders, we understand that certain color combinations can achieve the right look, style, or feeling. A TikTok design concept that has gone a long way this year is "dopamine dressing."
This concept comes from the main principle of color theory: specific colors evoke different emotions, mindsets, or moods. Dopamine dressing and aesthetic color combos deliver various symbolic aspects of color and can work for you at your next event through larger furniture pieces and accessories.
As we prepare for fall and winter, let's look at ways to incorporate dopamine dressing and color combos of purple and blue into your events in these seasons.
Color Combos with Purple
If you're hoping to add a bit of mystery, spirituality, or imagination to your event, you can't go wrong with purple. A symbol of royalty since ancient times when purple dye was so expensive that only the highest echelons of society could afford it, purple makes an enticing color combo for black, especially in lighter tones.
The combination of plum or berry tones with teal is rich and inviting for a different swing, especially when you throw in luxurious textures. One last color combo is purple and yellow for a touch that's bold and bright.
One crucial accessory that can help you achieve these bold looks is the ottoman. Incorporating an ottoman in your design gives you opportunities for pops of color and extra comfort.
Color Combos with Blue
Blue is one of the most versatile colors when taking on dopamine dressing because it suggests trustworthiness, security, and loyalty.
Bringing blues into an event color palette is easy to maintain a more traditional, reassuring feel while combining with more experimental colors. Depending on your events, shades of blue look great with browns and whites for a natural, retro vibe, while pink and navy provide an elegant sense of style.
CORT Events has flexible seating options in this shade with their bar furniture. The Blade barstool offers contemporary style in a modern, versatile blue that works well with red.
Dress Your Next Event With Timeless Combinations CORT Events
No matter what color combination you take from TikTok inspiration — or dream up on your own — you have a partner every step with CORT Events. When you team up with my friends there, you're not just renting furniture but also working with a source of creative inspiration and ideas.
The next time you're ready for vibrant color combinations for your next event, there's one name to count on: CORT Events.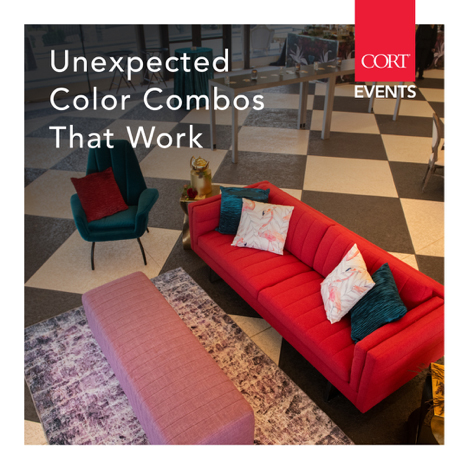 Getting Back to Things with CORT Events
It's finally happening again.
Picture this; you're clad in a freshly pressed company polo shirt and walking shoes, steaming cup of catered coffee in hand, and you make your way towards the general session room for the first in-person conference in nearly two years. Crazy to think about, right?
But once you're through those doors, you could be faced with two scenarios:
Scenario one: Behind the doors is a massive and modernly appointed meeting space with the old familiar hit of sensory overload throughout the room. Hyped-up music plays all around with saturated lighting flanking three massive LED screens welcoming you and the other attendees to find seats in a sea of sardine-packed, shabbily worn, basic banquet chairs.
Scenario two: Those same doors open to that meeting space, but in this scenario, attendees take in a dazzling setup of furnishings? At the room's rear, high-top tables with comfortable-backed stools are waiting for those who want to use their laptops. And for those who want to be front and center, there's a spacious and sumptuous soft chair sanctuary, complete with a personal side table.
It may seem obvious and small in execution, but can you tell the difference between these two scenarios? The second was designed with intention, the attendee's total experience in mind, and will likely result in increased engagement. In contrast, the former scenario made seating an afterthought and did not thoroughly consider the value that deliberate tradeshow and event furnishings provide attendees.
My friends at CORT Events have been helping their clients with these meaningful and intentional steps since we started meeting in person again. Assisting planners in creating a conscious attendee experience and unrivaled personalized service through furniture rental, CORT Events continues to lead the way in supporting industry association events by designing meaningful gatherings that resonate with meeting professionals.
Designing with Purpose    
As the author, entrepreneur, and gathering-enthusiastic designer Priya Parker continually calls out in her book 'The Art of Gathering,' it's essential to start with the desired end goal for a gathering's takeaway. She outlines the basic building blocks for event professionals everywhere: 'The first step in convening people meaningfully is committing to a bold, sharp purpose.'
This feeling translates easily into furniture design. For example, seamlessly answering for attendees through your layout that you understand they may need to be actively working or writing something that will require a high-top table. Or that they will be participating in campfire-style round table breakout discussions, which is why you've offered them small seating clusters for collaborative conversations. These touches go a long way to accomplish the intended purpose, the takeaway message, and the educational mission than simply setting out banquet chairs arranged theatre style.
Creating A Personalized Experience
To make a meeting memorable, consider amping up personalized design details. For example, consistently weave a specific color scheme or branded logo seamlessly throughout an event with soft seating, tabletops, accent pillows, greenery, and even wall partitions that immerse attendees in the desired theme. Personalization's unique power in events is the narrative-style journey it takes attendees on.
Why CORT Events
CORT Events believes in helping planners to create unique touches at events of every size and type. They are truly there to help and be an intentionally minded partner from the start until the finish of your events. When you're ready to plan your next event, make your first call — or online visit — to CORT Events.
This article was contributed by Stephanie Byrd the Associate Marketing Manager with CORT Events. Stephanie appreciates marketing every facet of the tradeshow and events industry. With a depth of former hotelier and upscale brand experience, she enjoys collaborating with industry partners, clients and associations to be as intentional as possible throughout the process of ideating, designing and then executing impactful and memorable events.
She can be reached at Stephanie.Byrd@cort.com. …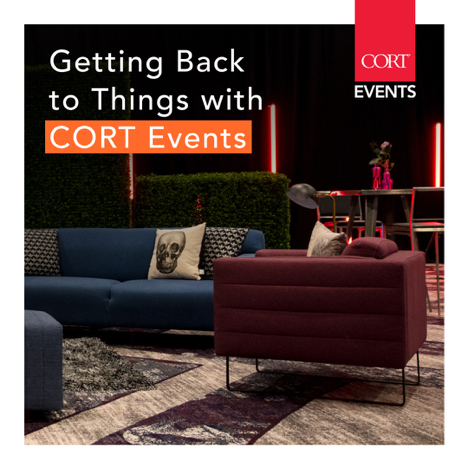 Color Blocking with CORT Events
Hey there, Sassies!
Time to dive into one of my favorite topics – color. When incorporating color into events, as planners, we have the opportunity to create an entirely new, exciting world for our guests. Whether through complementary shades, tones, or odd color combinations, they give us a way to express ourselves creatively while providing our clients with one-of-a-kind events. My friends at CORT Events are back and ready to offer help on this topic. This time, they're looking at color blocking and how we can use this trend through the end of the year.
What is Color Blocking?
From TikTok to the runways, color blocking has been hot this year. At its core, color blocking is mixing two or more colors to create a visually unique look. In the fashion world, this has taken on an eye-catching mix of colors, including bright hues, striking statement pieces, and those unexpected color pairings I mentioned before.
In our event world, we have an opportunity to take this on through furnishings, accessories, and decor to create a modern, hip environment for our guests while also incorporating client branding and logos in a new way.
Staying Neutral or Going Bold with Color Blocking Furniture Design
For a soft and easy layup, pair a neutral color with a bold shade like the red Shimmer Pillow or the green Splendor Pillow with the blue Allegro Sofa. This combination allows the bold color to stand out without being overwhelming.
If you're able to mix things up and add some bright hues that will pop, head towards opposite ends of the color wheel with the orange Beverly Oasis Modular Soft Seating alongside the teal Malibu chair to create a striking statement while creating an inviting seating environment.
Make a Statement with CORT Events
If you're hoping to make a bold statement with your next event, look no further than CORT Events. Their team of experts are ready to add their custom solutions and touches to make your event one of a kind. Make your next call to CORT Events.